Our experimental marketing was a success. Our pretend "fry sauce Christmas tree" gained national attention. Read the original updates below and see a list of just a fraction of the dozens of news outlets that featured our story.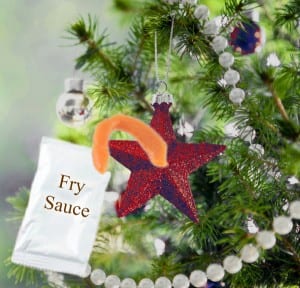 As usual, we had a little fun around the office. With Christmas coming near and all we figured we should celebrate like everyone else, but with a Utah spin. It was a tough decision deciding which Utah thing we love more, green jello or fry sauce. The office came together like a team though. We just finished building a 7 ft. tree… made of fry sauce! Pics to come.
Ha! Looks like the word is spreading about our fry sauce Christmas tree. Take a look at where we've been featured in the media.

NBC's WRCB TV
UT News Feed
Street Insider
Wesrch
Deal Breaker
Virtual Strategy
Financial Content
UPDATE 2013/12/20: So many people are picking it up now that it's hard to keep track of. We'll just try updating it with a list below instead.
The Miami Herald
The Boston Globe
Pittsburgh Post-Gazette
WRCB-TV – Online
Virtual Strategy Magazine
PRWeb
Markets.financialcontent.com
Digital Producer
Digital Media Designer
DealBreaker.com
Biz Wire Express
AEC News Room
The Deming Headlight
Record Publishing Company
Worth Magazine
The San Luis Obispo Tribune
HPC Wire
The Crescent-News
Ashland Times Gazette
Maxim Group
Stocknod
eZanga
KARN News Radio 102.9 FM / 920 AM Little Rock, Arkansas
Ruidoso News
SiliconValley.com
InfoStor
The Daily Jeffersonian
MoneyShow.com
StreetIQ
Carlsbad Current-Argus
myMotherLode.com California Gold Country
Beyond The Dow
Indianapolis Business Journal
Industrial Info
The Network Journal
InvestorPlace
Farmington Daily Times
San Mateo Daily Journal
Value Investing News
Oil & Gas Journal Online
DailyBulletin.com
Rockford Register Star
The Columbus Ledger Enquirer
IC Places
RCR Wireless News
FayObserver
Renewable Energy World
Market Intelligence Center
Hydro Review
HeraldNet Everett, Washington
The State Journal
740 KVOR
The Cincinnati Enquirer
Macon Telegraph
Power-Gen Worldwide
Oil & Gas Financial Journal
Las Cruces Sun-News
Securities Technology Monitor
The Island Packet
Santa Cruz Sentinel
Bradenton Herald
Belleville News Democrat
A.M. Best Company
San Bernardino County Sun
Digital Media Wire
Redlands Daily Facts
Idaho Statesman
San Gabriel Valley Tribune
The Buffalo News
Sign On San Diego
The State
Centre Daily Times
Whittier Daily News
The Bellingham Herald
Biospace
Inside Bay Area
The News Tribune
The Street Sweeper
Anchorage Daily News
Minnesota Public Radio
The Daily Record
Pasadena Star-News
Sun Herald
Wichita Eagle
LA Daily News
Lexington Herald-Leader
Press-Telegram
El Paso Times
Press Enterprise
The Sacramento Bee
Minyanville
The Daily Breeze
NewsOK
The Olympian
El Nuevo Herald
Contra Costa Times
Market Pulse
StreetInsider
WRAL
The News & Observer
Investing Daily
Star Telegram
Kansas City Star
The Sun News
San Jose Mercury News
International Finance Magazine
Daily Herald
Star Tribune
International Business Times of Grace